Robert & Maria. (09/18/18)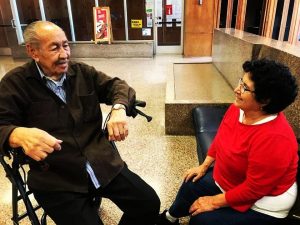 This is Robert and Maria. Robert is 82 and Maria is 70. Robert calls Maria La Jovencita. "My young one". The love these 2 share is amazing. Last year Robert was in a wheelchair and Maria took care of him. Even when the building they lived at, the infamous Burlington had an elevator down for 50 straight days.
Their case, one of the 87 residents of Burlington who went on a rent strike was the first case lost. Even though the landlord dropped all of the rest of the eviction cases, Robert and Maria might be locked out as early as this Wednesday. Robert can't sleep in a car or on the street. Last year while the elevator was down he fell down the stairs and broke his hip. They don't deserve this. This Wednesday and for the days following afterwards we are setting up a defense against a lockout. SheDoes together with the L.A. Tenants Union, VyBe Chapter – Los Angeles Tenants Union, & Democratic Socialists of America – Los Angeles are organizing people to show up as soon as we hear the sheriffs are coming to lock them out. We are also going to gather at 7.00am on Wednesday morning the 19th in front of 131 S.Burlington Ave, Los Angeles CA 90057 to show Robert and Maria that they are not alone. We are not asking you to get arrested. Absolutely not. We are just asking you to show up to a Show of Force.
Yesterday, Sunday the 16th, 3 homeless people sleeping by the Macy's in Downtown LA were beaten by an assailant with a baseball bat while they were sleeping. All 3 had their skulls broken. I want you to look at this photo and picture your grandma and grandad. Would you want them on the streets? Show up on Wednesday and if you want to be on a Rapid Response Team to show up when the sheriffs arrive, text your name to (310) 926 6675.
Robert & Maria Deserve better!
SheDoes. (09/15/18)
An Angel on Wheels
For those of us in the homeless service sector it's bad enough when you come across a family on the streets but even worse when you hear about what they've been through. Yesterday, when I dropped by our The Shower of Hope Resource Center in Boyle Heights, Philip who put the whole operation together hurriedly approached me. He was clearly upset. "We have this family here who doesn't have anywhere to go. She has 2 young boys and I don't want them on the streets. They got robbed last night and we have nowhere we can send them." This family of 4 had been sleeping at the county hospital overnight. A case worker had referred them to call 211. Even she knew that 211 wouldn't be able to help. She looked heartbroken. It was 85 degrees and they had spent the whole day outside. 6 year old Daniel was getting restless. The mother Gabriela was worried. Their EBT card (Food stamps) was stolen last night and they didn't know where their next meal would come from.
I texted Andy Bales the Executive Director of theUnion Rescue Mission. "Can you take in a family of 4?". The City and County of LA does not have a single shelter or any place for an unhoused family to go to but Andy answered back. "Always". Andy runs the highest capacity shelter in LA and he does it without the help of the city and county. Right now 1400 people sleep under his care including over 200 kids. No mater what time we call him whether it be 2 in the morning, when there is a family on the streets, he will always say yes.
Recently you might have seen opposition in Koreatown, Venice, San Pedro and elsewhere against Bridge Housing. Bridge Housing a form of shelter for people. Those against these projects always say one thing. "Homeless people don't want to go to shelters. The shelters are always empty." I challenge you to go volunteer at Union Rescue Mission. See for yourself how desperate people are for shelter and learn that we need more Bridge Housing everywhere in LA. Yesterday we were lucky. Yesterday we got to get Gabriela and her kids into the safety of Union Rescue Mission. As soon as we walked them into the waiting room there were 4 plates of pasta, 4 sandwiches and cake waiting for them. Gabriela's eldest Jennifer and 10 year old Jonathan were ecstatic. Michelle Pinkney one of our volunteers who helped drive them to the shelter had given them a Walking Dead Jersey which Jonathan is wearing. They are super fans of the show and loved it.
A happy ending to a tragic situation but we were lucky. We had a way to connect them to Andy. I call him an Angel on Wheels because he moves mountains for people in need all from a wheelchair. But for the next time, for the next time let's make sure we have Bridge Housing in every neighborhood of LA so that no child has to ever sleep on our streets.
Eduardo. (09/12/18)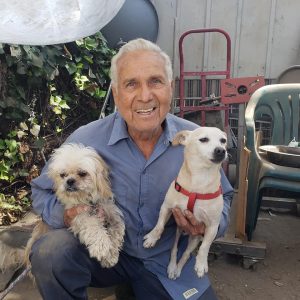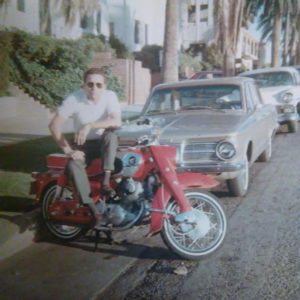 Today I met Eduardo in Cypress Park. This is him with his dogs Shorty and Pooki. The picture on the right is of him 50 years ago in LA in 1968. Shorty and Pooki are just 2 of his 8 dogs. Yes, Eight dogs!!!
Why 8 dogs you may ask?
Well Eduardo was the caretaker of an animal hospital right here in Cypress Park (North East LA) for 25 years. While working there he fell in love with animals and started caring for stray dogs. He adopted 6 and 2 were born into the family. Last year Eduardo who is 74 suffered a massive stroke. A stroke that not only left him bedridden for months but also made him lose his ability to drive big trucks which was his main profession. Being a class A driver driving dump trucks. Not being able to work, this year he was evicted from his apartment in Cypress Park.
Tonight Eduardo will sleep in his truck like he has for the past couple of months. He told me it's tough but he also told me he sleeps well knowing that a friend is letting him keep his dogs in a nearby yard. It's not easy feeding 8 dogs but Eduardo still makes sure he does. He told me in tears of how he was once afraid a few weeks ago that he almost couldn't but whether or not he eats, he makes sure his dogs will eat. If you're wondering if every person going through homelessness has a story like Eduardo, trust me they do. You just need to take a minute to ask and listen.
This is why we protested in support of the new Bridge Housing facility in San Pedro (#ABridgeHomeSP). This is why we will keep on fighting for Bridge Housing in San Pedro and in every neighborhood of Los Angeles. Because Eduardo and every other human being struggling in this city deserves a safe place to sleep.
Joe, RIP. (08/29/18)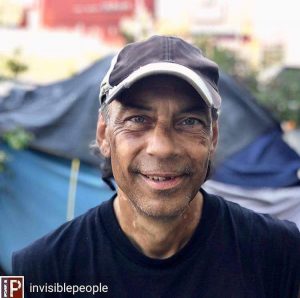 I didn't know Joe
I've never met Joe. Didn't meet him until Monday night when Jane showed us a video of him. In the video Mark asks Joe in front of his tent in Koreatown: "If you had 3 wishes what would they be?" Joe answers:
1. To be young again.
2. To be happy.
3. To live a long good life.
Exactly 2 weeks later on the night of August 19th Joe suffers a heart attack. A heart attack he doesn't recover from. I didn't know Joe but those 3 wishes, well Joe was all of us. This Friday the 31st there's a memorial for Joe at 8pm at Wilshire & Vermont. I heard someone say everybody wronged Joe. Well, I think it's time someone did right by him. So I'm asking you our #SheDoes Warriors to join in celebrating the life of Joe Reyes this Friday night. Bring a candle. Oh and if you love cats please bring a picture of your cat. Joe loved his cat Jessbel. I think Joe would get a kick out of that!
Veronica. (08/28/18)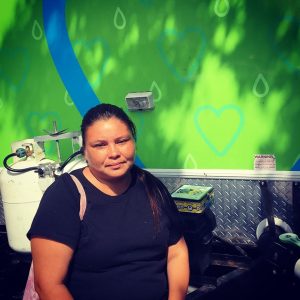 It's easy to blame the homeless for being homeless rather than facing the truth that our society is failing those who are struggling. Veronica was a single mom to 3 kids sharing a home with her sister. Her sister moved out of state and that was it. Unable to afford these insane rents by herself she fell to the streets. She then lost her kids to the state from being on the streets. Not for a lack of love but for a lack of resources that we have for those who are desperately trying to survive.
She's trying hard!
From taking parenting classes to looking for work, it's not easy when her routine involves taking showers in a park restroom. Do we fault her for the lack of resources we as a community provide or do we strive to give women like Veronica Bridge Housing as a way to keep their kids and a chance to jump back on their feet. Bridge Housing isn't the final solution, we all know that but if there was Bridge Housing for Veronica 1.5 years ago the question is, would Veronica have become homeless in the first place? Would she have ever lost her kids?
The streets are not a place for Veronica or her kids. Ever! That's why we're fighting for Bridge Housing!
#SheDoes Deserve Shelter & Protection!
Nancy. (08/04/18)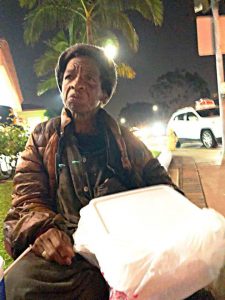 After enjoying the sunset on my way home I saw an elderly woman on the sidewalk with all of her bags just sitting there at a MAJOR intersection here in Torrance. I felt led to stop although it was late & asked if she was hungry & she said YES. I grabbed her something to eat, drink & got to spend the next two hours with her right there on the busy intersection. She was so intelligent & well spoken I asked her if she had ever worked & she said she was an English teacher at a university here in Southern California. I could sense she suffered some type of trauma. I asked her if she was interested in emergency shelter & she said she has tried & has not been able to find an open bed. She named off several that I was familiar with & also knew that beds have been full for months with absolutely no availability. We need more shelter beds & need to support the proposed Crisis Bridge Housing locations here in the South Bay for women just like Nancy.
Her purse was stolen which included all of her important documents like her id, birth certificate & social security card. She desperately needs wrap around services to help her get back on track & most importantly get her off the streets to safety. She told me that not ONE single person has stopped to see if she needed assistance & felt she was invisible. I told her I would try to put her on a waiting list for our ONLY shelter Doors of Hope here in the South Bay because I happen to have a very good friend Laura Scotvold-Lemp who is the new Director that will do what she can to help us! The look of a HOPE on Nancy's face was worth a million bucks! I felt horrible not being able to help Nancy tonight but am praying she makes her way to the shelter.
Please please keep an open mind about the 3 locations for Crisis Bridge housing, San Pedro, Wilmington & Watts. Let's take care of our own here in the South Bay/Harbor Area. If we do nothing people will continue to die alone on our streets! This is unacceptable & heartless. Who knows, one event can throw us into homelessness faster than we can ever imagine.
Support Crisis Bridge housing!
#SheDoes Deserve Shelter & Protection
Luis and Nemesio. (06/30/18)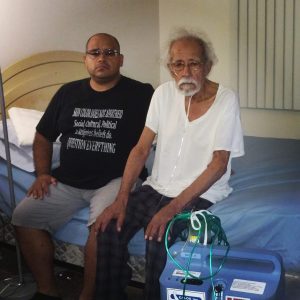 Who is Burlington Unidos?
We are the Herrera family, Luis and Nemesio, and have been living at Burlington Apartments for 4 years. It's just the two of us here in California. I am 38 years old and my father is 81years old. I support us both since he is a dialysis patient and can't work anymore. I drive him to and from his treatments 4 times a week, Monday, Wednesday, Friday and Saturday, at DaVita Wilshire Dialysis Center. When He gets really sick I take him to the Good Samaritan's ER Room. I work 2 miles away from home. We've been lucky that where I work, our home and his medical needs are within 2 miles radius. If evicted, my main priority would be a dialysis center and a hospital close enough from home. I would have to commute to work while making sure, either by paying someone or Uber, my father gets his treatments.
– Luis Herrera
Luis and his father are one of 87 families of the Burlington apartment complex who went on a rent strike. They are striking because of deplorable conditions due to a consistent lack of repairs, disrespectful staff and insane 25% to 40% rent increases this year on top of a 10% increase last year. The Burlington Unidos fight is not just about unreasonable rent increases and unfair treatment by landlords, it is about unjust mass evictions that are now a leading cause of homelessness in Los Angeles. Just as important as Yes on 10, the Burlington Strike will define how landlords can treat tenants in California. It's time to Scream Burlington Unidos and join the fight for Affordable and Just Housing in California
SheDoes. (06/14/18)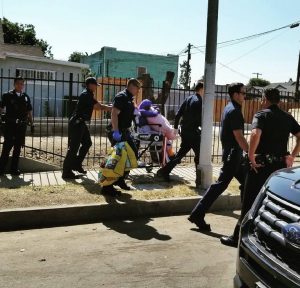 What do you do when you have a mentally disabled pregnant lady living on the streets?
Went to help Claudia today as she and her organization L.A. on Cloud9 had noticed a mentally disabled lady by the name of Loretta in South LA. The poor lady seemed to be suffering from an intellectual disorder where she didn't understand how to take care of herself and was extremely stressed by her pregnancy. When asked if she wanted help, she kept saying "No, no, please leave me alone" and cry uncontrollably hugging her huge stuffed animal. She was sleeping on an old mattress covered with bed bugs.
Claudia had called paramedics yesterday and they had refused to take her in. When I got to the location Claudia was literally standing between the street sanitation dept who were cleaning the street and Loretta.
I reached out to Alisa Orduna and Kimberly Soledad Barnette who advised to have her be placed on a psychiatric hold. A psychiatric hold was the only option as Loretta, at around 8 months pregnant was not eating or drinking or in the right state of mind to take care of herself.
Called Brian Buchner and Christina Miller from the Mayors office who contacted LAPD and Christina walked me through what to do.
Finally the LAPD officers who were on scene agreed to do a psychiatric hold and called in the paramedics. When the paramedics from unit 46 arrived Loretta still refused to go. She kept crying and screaming "No, no, leave me alone."
I felt bad for the paramedics and even worse for the LAPD officers as they didn't want to have to physically get Loretta on a stretcher. At one point Loretta threw a dirty diaper at the officers. I saw the agony in the officers faces knowing they would have to put hands on a pregnant woman but they understood Loretta's baby would suffer a miscarriage if Loretta stayed on the streets. Thankfully Loretta decided to sit on the stretcher on her own. Here she is being wheeled to the ambulance from where she was taken to a hospital and is currently in a labor ward.
I have to give thanks to officer Tony Hurtado and Josue Reeves who were the first officers at the situation. To Sargent Carlos Langarcia for making the hard call to decide on going forward with placing her on a hold which forced Loretta to go with the paramedics. To officers Hurtado, Reeves, Casasola, Miranda among others who were on scene and tried desperately to convince Loretta to go to the hospital and to the paramedics of unit 46.
Thank you to Alisa Orduna who's working to see how we can ensure Loretta is taken care of from the hospital and not discharged back onto the streets. Thank you again to Brian and Christina from the Mayor's office. To Claudia who saw Loretta and refused to take no for an answer in helping Loretta and why she is in a hospital now.
It's a difficult conversation but how to help those with grave mental health issues is something we as a City, State and Nation are going to have to have not only to treat some of those who are homeless but ourselves in the event of a serious mental illness.
#SheDoes Deserve Mental Healthcare!
Norma. (06/12/18)
Today we met Norma in an encampment in Huntington Park. She has Mia, a 3 month old raccoon who she keeps as a pet#SheDoes

Posted by Mel Tillekeratne on Thursday, July 12, 2018
Today I met Norma in An encampment in Huntington Park. She has Mia, a 3 month old raccoon who she keeps as a pet.
SheDoes. (06/07/18)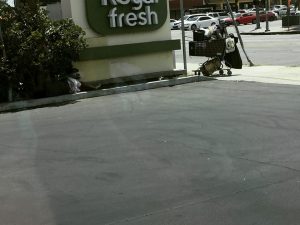 THIS is why we need Bridge Housing!
This was taken by Leonardo Vazquez in North Hollywood by Sherman Way and Coldwater Canyon an hour ago when it was 105 degrees. This poor woman did all she could to get out of the sun. We can give all the water in the world but we need to get these people inside!
#SheDoes Deserve Shelter & Protection!
Steve. (06/07/18)
Homelessness in Harbor City#SheDoes SheDoesMovement.Org

Posted by Mel Tillekeratne on Friday, July 6, 2018
Homelessness in Harbor City
#SheDoes
Ashley, Victor and Sean. (06/06/18)
Ashley, Victor and Sean under the 105 freewayHomelessness in LA County #SheDoes SheDoesMovement.Org

Posted by Mel Tillekeratne on Friday, July 6, 2018
Under the 105 freeway
Homelessness in LA County
Gregorio. (06/06/18)
Gregorio was sleeping in a pipe that feeds to the LA Riverbed South of Imperial Highway because it was too hot to be outside. Homelessness in LA County #SheDoes SheDoesMovement.Org

Posted by Mel Tillekeratne on Friday, July 6, 2018
Gregorio on the LA Riverbed South of Imperial Highway
Homelessness in LA County
Bill. (06/06/18)
Bill living in Whittier Narrows Nature CenterHomelessness in LA County #SheDoes SheDoesMovement.Org

Posted by Mel Tillekeratne on Friday, July 6, 2018
Bill living in Whittier Narrows Nature Center
Homelessness in LA County
Cee, RIP. (07/02/18)
As I dropped off a client this morning (07.02.2018) in Eagle Rock I was saddened to see the Los Angeles Fire Department performing CPR on one of our neighbors experiencing homelessness. She is very old, can't walk and is very vulnerable. She is a very sweet lady and I feel extremely sad for her. She is often unaware of what is happening. She has a boyfriend who watches over her. He is very protective of her & doesn't let anyone get near her even if it is to help. I don't think he physically abuses her but I feel that his over protectiveness doesn't allow her to get the services she needs. We have tried many times to assist her and she always says she wants off the street on those times he was not with her. Different people have called protective services for the elderly to see if something can be done but they never take her with them. She really should be at a assisted living facility because she can not take care of herself. She is from Eagle Rock and she owned a house on hill drive. As the Firefighters took her way to the hospital they said she still had a little bit of life in her but I fear the worst.
Unfortunately Monica informed us that her friend Cee lost her battle for life late last night. Cee and the thousands of other women on the streets of LA deserve shelter and protection. We need more Bridge Housing and Supportive Housing. This is what happens when people say no to Bridge Housing and Supportive Housing in their neighborhoods like Koreatown and Venice. This is a matter of life and death.
Cee Deserved Better. She Deserved Shelter and Protection.
SheDoes. (06/28/18)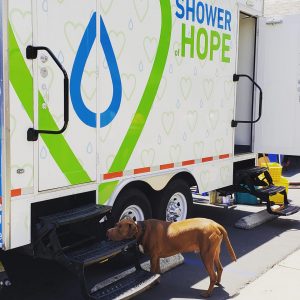 I never understood why homeless people kept pets. On top of having to care for themselves while on the streets, why should they take on the responsibility of a pet? I met so many people who said they weren't allowed in shelters just for the reason they have a pet. Then one day Sophia, a woman I befriended on Skid row told me why she had a pet dog. She came from an abusive home, was a victim of Domestic Violence and she was raped on the streets. Every night she would cry herself to sleep in fear of getting raped again. Her only company, the only person she could trust not to hurt her when all others did was her dog who would stay by her side day and night.
If a picture is worth a thousand words, this picture of Bobby waiting anxiously while his human Gabriel finishes his shower will make you understand why someone homeless would have a pet. I used the word loyalty not because dogs are loyal, we all know that. I used the word loyalty because people who are homeless would rather sleep on the street than let go of their beloved dog and sleep in a shelter. We need to reimagine shelters in LA and part of that is allowing people to bring in their pets who stayed by their side through so much.
This is one reason why we're supporting the city of LA's new Bridge Housing Program. Because some of the new Bridge Housing facilities will allow people to bring in pets.
#SheDoes Deserve Shelter and Protection!
Sugarbear. (06/25/18)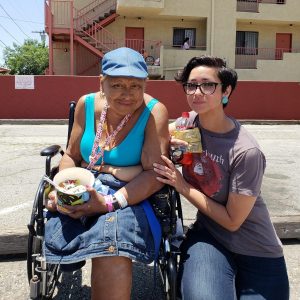 Sarah came to our resource clinic yesterday in Boyle Heights. When we spoke she told us how she was born and lived her whole life in Boyle Heights after her grandma immigrated here from Mexico. She used to be a painter by trade and loves drawing cartoons. She loves her nickname Sugarbear.
She's 58 and an amputee. She lives… let me rephrase that, she survives on the streets of Boyle Heights. She told us how she was raped while she was homeless. Sarah is one of the THOUSANDS of women living on our streets who are constantly at threat of rape and assault. What's even more tragic is that 50% of these women are victims of Domestic Violence like Sarah has been.
Angelenos, Sugarbear and women like her deserve housing and shelters. Saying no to either is condemning these women to rape. Not once, not twice but as long as they're on the streets. It's hard to see tents. But the tents aren't going anywhere unless we give them somewhere safe to go. It's time we all said YES to Housing and YES to Shelters.
Because #SheDoes Deserve Shelter & Protection!
Carmen Cecilia. (06/21/18)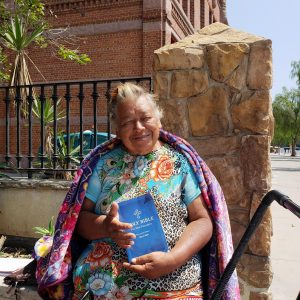 I met Carmen today after the End Family Separation rally in front of the Metropolitan Detention Center. Carmen is 68, sleeps on the streets. Passing her and seeing her smile I had to talk to her. When I asked if she stays here, she replied yes, "I've been sleeping on these streets for a long time." I asked her how she can smile through all this and she showed me her bible she was clutching to the whole time.
She said I pray. I pray to God to keep me safe. I pray to God to forgive the people who attaked me. I pray to God to forgive the people who raped me. I pray to God to forgive my mother who didn't protect me when I was young because she was mentally ill.
Homelessness is not as simple as a choice. People become homeless for many different reasons but what is simple is that we can't keep Carmen or any other women on our streets thinking nothing will happen. We need Permanent Supportive Housing but until that comes along we need Bridge Housing to keep these people sheltered and safe. We have Bridge Housing Facilities planned for Koreatown, Studio City, Hollywood and Venice and already we have people willing to speak out against sheltering people like Carmen.
This country is at a moral crossroads. We need you, the silent people who care to Speak up and Stand Up. We need you to answer the prayers of women like Carmen and work to keep them safe and sheltered. Carmen is just 2 years older than my mom. Think of her as your mom and decide whether you will stay quiet or stand up!
Because #SheDoes Deserve Shelter & Protection!
Lisa. (06/18/18)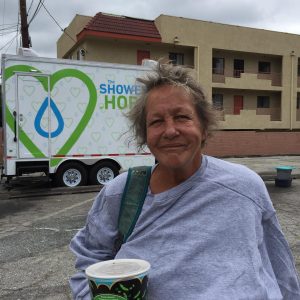 "Lisa will be turning 56 in 3 weeks. She's been homeless now for 4 months. She's native to Redondo Beach. Unlike most of our Shower guests, she hasn't been sleeping in the streets, she's been in shelters and clinics the entire time… but when I asked her to tell me about this time in her life, she said:
"What's there to say, I've been through hell and back."
Sharon. (05/11/18)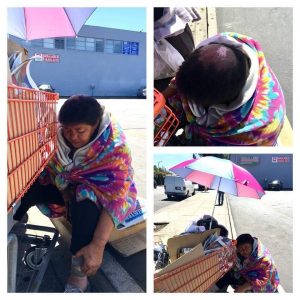 I stopped by to visit Sharron today. It's getting hot and she is out in the elements. She has a large bald spot on her head from sleeping on the concrete that is now blistered from sitting in the sun. I got her an umbrella so she could at least be shaded. This is only the start of the intense heat that she will endure this summer. Venice, Koreatown we need you to support shelters and housing in your neighborhood. I support shelters and housing in my neighborhood. It is shameful that people in our country will allow mentally ill women to suffer In the streets because it brings down property value.
#SheDoes Deserve Shelter & Protection!
SheDoes. (06/04/18)
"The woman, I don't know her name, in her 40's, told me about how she was raped on Mother's Day"
After seeing another protest yesterday against the proposed new shelter in Koreatown, I'm thankful that Madeline shared her experience yesterday. No matter how depressing, we have to keep reminding ourselves why we fight for these shelters. Get your family, friends & everyone you know on board. This is a fight we can't afford to lose!
"I'm in Sacramento for an action with The Poor People's campaign tomorrow. I was enjoying a quiet moment in the park with a friend and we had a brief conversation with some un-housed people who were looking for a friend who had left the area. The woman, I don't know her name, in her 40s, told me about how she was raped on Mother's Day, and about the kind woman at the CVS who gave her some pepper spray so that would never happen to her again. The trauma was still very present in her being, and tears were quick to surface. I only had compassion and an ear to give in that moment, and wanted to give more. This woman, living on the streets in our State's capital (the 6th largest economy on the planet) has to face the very grim reality of sexual assault each and every night. This is why we say #SheDoes (SheDoes). No woman should have to face rape as a part of their day to day existence. I'm very happy that LA has committed to 15 emergency shelters, 6 of those specifically for women, but now we all have to dig deep and support these shelters, and stop the NIMBYism these shelters produce in us. Not In My Backyard is ridiculous because all of us have women on our streets, near our homes, who are sexually assaulted regularly. But She Does Deserve Dignity and Protection. #SheDoes is doing the work in Los Angeles to see these shelters to fruition. It's only the beginning, but it needs to happen now. And we have to step up our efforts to create affordable housing solutions in our communities, support living wages for all, and a commitment to healthcare for all of us. It is the time for a return to human dignity, for a great moral revival. We deserve healthy communities and a healthy planet."
Olga. (06/01/18)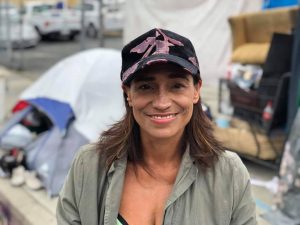 "‪Olga lives in a tent in Los Angeles. She has a part time job working as a maid at a hotel in Nothridge. She is one of several homeless people we talked to today that have jobs but just cannot afford to pay for rent."
The working homeless is a growing population in LA and we need to secure shelters for women like Olga until she gets back on her feet or receives housing. This is why #SheDoes will support the new Bridge Housing Facility in Venice.
Mark Horvath, Invisible People
Denise.  (05/24/18)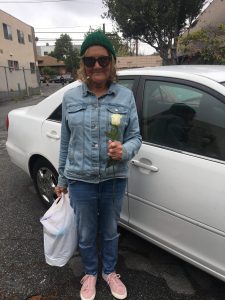 THIS is why we're fighting hard for the Koreatown Shelter!
"I was Assaulted behind a tree by several men with masks. I'm 57 Years old, like a grandma. Why would they do that to me?"
"This is Denise. She was raped on March 8th earlier this year & has been homeless for 3 years. She kept asking me how and why anyone would do that to a grandma. Women like Denise desperately need Shelter and Protection to save them from rape, assault, & violence on the streets.
Mary Kay Nolan. (05/17/18)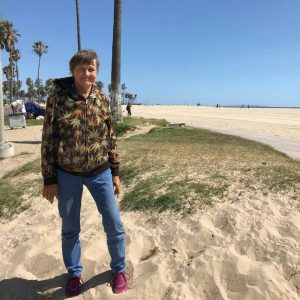 "Yes, I still believe in God"
"I had just turned 10 years old, walking home from a surprise birthday party, when a man grabbed me, threw me into the snow bank, and raped me. I didn't even know what sex was then.
Then when I was 39, I was walking home from work at Warner Bros when six young men grabbed me at gunpoint and brutalized me for 14 hours before throwing me out from their car into an alley. Two homeless HIV-positive men living behind the dumpsters wheeled me to the Good Samaritan Hospital on their shopping cart. They saved my life. Even my mother couldn't recognize me. Let's just say, I stayed celibate for a long time. I still suffer from PTSD and panic attacks.
The love of my life died from leukemia after I had just given birth to my third child. My whole world caved in when he died. I gave up my three babies for adoption because I knew I couldn't take care of them— and I regret that decision every day of my life.
My last boyfriend was a drug addict and he choked me when I tried to leave him. I walked out that door— I'm never going to let a man hit me again. I would rather die.
So now I'm homeless in Venice Beach. I wake up every morning to the sound of waves. The ocean is my front yard. People here call me "Grandma" and we take care of each other here. But I still pray to God that I won't be homeless for long. I still have so much I want to do. Life is an adventure.
Yes, I still believe in God. I've met much pain in life. But it's not His fault. He could have let me bleed to death after that gang-rape. Yet He sent two homeless men to rescue me. I don't know why. But He knows.
Please don't turn your head from us because we're homeless. You haven't walked in our shoes. We're human beings. Please treat us like one."
SheDoes. (05/10/18)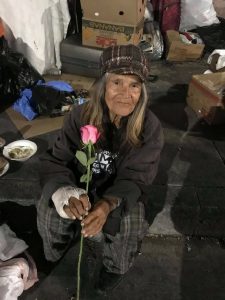 So today is Mother's Day in some Latin American countries, and all day I had Dolores in mind. She is such a sweet old lady that reminds me of my nana. It really breaks my heart to see her in the situation she is in. If that were my mom or my nana, I'd want them to be sheltered and protected. Dolores has been through so much and so do many of our homeless mothers. Today I want to wish a Happy Mother's Day to our homeless Latina moms, because they deserve shelter, love, protection, and a peace of mind in regards to the safety of their children. And hopefully one day, may those whom were separated from their children unfairly be reunited with them soon.
Liliana. (05/10/18)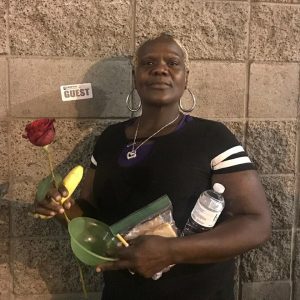 Last week I was handing out roses to our many women residing on the streets of Skid Row. Liliana came through our line and I called her over. She looked at me and asked, "is that for me?" I smiled and told her, "a beautiful rose for a beautiful lady." She looked at me and said, "no one has ever given me a rose before. In fact, no man has ever given me a rose before." I quickly turned around to Jose Torres and told him to give her the rose, she smiled from ear to ear. She started going on and on about how blessed she was to have us there, and how Jose was such a good guy. Her demeanor changed completely. She was so happy she went around our group hugging and introducing herself to our volunteers one by one.
Women like Liliana is why we say #SheDoesbecause #SheDoes Deserve Shelter & Protection. #SheDoes Deserve Love & Compassion.
We got Mayor Eric Garcetti to commit to opening 6 shelters specifically for our homeless women, but until those 6 shelters open their doors we cannot stop the momentum! We need to get everyone in LA to say #SheDoes.
Say it loud, #SheDoes!!!!!!!!!!
SheDoes. (05/04/18)
Irony
I was going to pause the #SheDoes posts for just a couple of days and then last night happened. As usual we were set up in front of Midnight Mission and serving away when I heard a worried Ahmad call me. He points towards a woman walking towards us. Maybe 5'2″ at most and no more than 90 lbs, she must have easily been over 65 years. She was walking alone & towards us in pain. You could feel her pain with each step & when she got closer, you could see the blood. The blood had somewhat dried but was wet enough to glisten under the street lamps. Allover her forehead, streaking down both cheeks & still wet and coming out from a knot on the top of her head.
I tried calling her and her whole body flinched in fear. I called Nazaret over hoping another woman might calm her but no, she talked, no she mumbled. Struggling to utter each word through trembling lips. She wasn't high or drunk. 7 years of working with the addicted I knew enough to know that. She was just plain and simple terrified. She mumbled that she wanted a t-shirt. Nothing, we had nothing until it dawned on me that I had a t-shirt in my truck. Ahmad ran to my car and got it.
All we could make out was that she wanted a t-shirt to swap for the bloody one she was wearing and she wanted to get to the Union Rescue Mission soon. She didn't want us to call 911. She was worried she might not get in. I had Nazaret and Ahmad walk her but after walking with her a bit she refused. She was just too scared.
To the women of the #metoo movement & the Women's March, we need you and we need you now! We have a chance to open 6 shelters exclusively for homeless women in LA & we need your support. We need every community in LA to say yes to shelters for women. 600,000 of you marched this January. Now is the time to take action! Come out in force and be loud. Loud against the people who say NO to shelters. Because a NO to shelters is pretty much a YES to rape for the thousands of women who are homeless in LA.
The Irony – the irony was the t-shirt I had was a #SheDoes t-shirt I was going to drop off at City Hall. A t-shirt that says #SheDoes. As in #SheDoes Deserve Shelter & Protection! And that's what this poor woman is wearing now.
Sorry Mayor Eric Garcetti, that t-shirt was meant for you but someone who needs it more is wearing it right now. We will get you another one & I hope you wear it with pride & fight like hell for our homeless mothers, grandmas, sisters & daughters. And don't worry, no matter who or what you come across, we will be there to fight with you every single step of the way!
SheDoes. (05/03/18)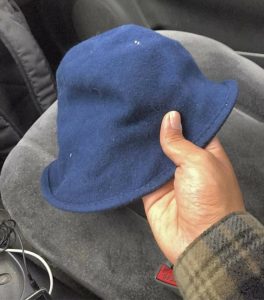 This morning we had to disguise a woman going through homelessness so that she could feel & be safe going to see her doctor who's in an area where she has been attacked multiple times before. I could only imagine the countless women who aren't safe nor get the chance to disguise themselves just so they can receive needed health services. These are the challenges she and many others face. Plus, the housing process more often than not demands medical documentation. Housing is never a guarantee… Please support the #SheDoes Movement.
Please show up to your local community meetings & let your political leaders know that #SheDoes Deserve Shelter & Protection!
Arien. (05/02/18)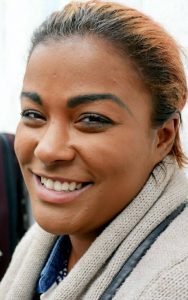 "My 3rd day here, I was raped"
Living on the streets in Hollywood, Arien is propositioned frequently. She is told to sell her body until she can get a job because that is a better option than sleeping on the ground. The reality is this is what women must endure while living on the streets. Despite her circumstances, Arien still wears a smile on her face.
"I have God. I think the only reason I smile is because I still have faith that I can make it out of this," Arien said. "I know I don't want to die yet."
Watch Arien tell her story: https://youtu.be/UJSfQaY1Cyw
Say YES to shelters for Arien and the thousands of other women like her going through homelessness in Los Angeles. 90% of homeless women are victims of Domestic Violence or Sexual Violence. By saying YES to shelters, you are saying NO to Domestic Violence, Sexual Assault & Rape!
#SheDoes – Deserve Shelter & Protection!
Mark Horvath, Invisible People
Miranda. (04/29/18)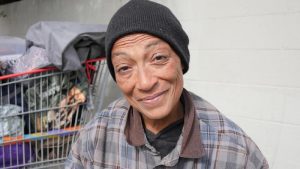 "Miranda was evicted from her apartment two years ago with no option but the streets. She has been homeless in West Los Angeles ever since. In the last few months, Miranda says she has been forced to move the location of her tent six times. While I was talking to her, a man pulled up in a BMW yelling at her to leave the area. But where can she go?"
– Mark Horvath, Invisible People
Say YES to shelters for Miranda and the thousands of other women like her going through homelessness in Los Angeles. 90% of homeless women are victims of Domestic Violence or Sexual Violence. By saying yes to shelters, you are saying NO to Domestic Violence, Sexual Assault & Rape!
#SheDoes – Deserve Shelter & Protection! SheDoes
Lanette. (04/26/18)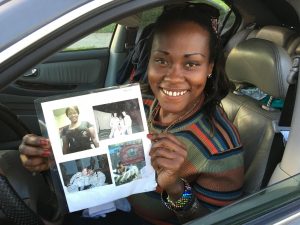 "Her smile is beaming. You can see she feels genuine pride as she reflects on this time in her life. She even carries pictures of herself taken during her service in the United States Marines. Completing two tours in Iraq, Lanette thrived in the military lifestyle and the structure it offered.
Civilian life has not been as easy. Suffering from PTSD, Lanette found personal and work relationships challenging. She turned to Spice, a dangerous drug, to try and feel better. This led to her current circumstance: homeless and living in her car near Inglewood."
Lanette is one of the thousands of homeless women living in their cars in LA. She served to make sure we were safe. Now it's time we made sure she is safe!
#SheDoes Deserve Shelter & Protection!
Mark Horvath, Invisible People
Jane. (04/14/18)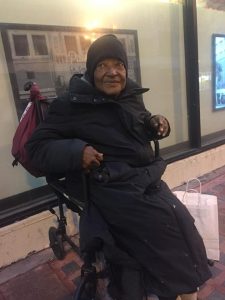 Meet Jane, she is one of thousands of senior homeless women who have been forced to live in the streets. Many of our seniors not only have to deal with the horrors and unsafe conditions and dangers of living in the streets but also their personal illnesses and like Jane, her disabilities. She carries her sleeping bag in her wheelchair and as she said, she looks for anyplace she can to spend the nights, usually among other homeless people to feel a little safe.
#SheDoes deserve better, she deserves safety and shelter.
Join me tonight at the #SheDoes Campout in solidarity with Jane and countless other homeless women to ask Mayor Eric Garcetti to open rapid emergency shelters for our LA's homeless women.
SheDoes. (04/13/18)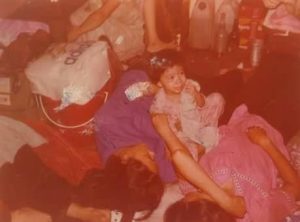 If you need inspiration to join us tomorrow, read what motivates one of our strongest #SheDoes Warriors, Teresa Mei Chuc to fight for our homeless mothers, grandmas, sisters & daughters:
"This is a photo of me when I was two years old in a boat with about 2,000 refugees fleeing war and oppression. We were without a home and without a country for three and a half months in the sea. My mother is wearing pink and laying on the ground. My aunty is wearing blue. My desire to help those most in need, those who are without a home, without food, runs deep within me. I am here and I survived because of the kindness and generosity of others. My mother told me that I was very sick on the boat. I was constantly coughing and crying. She didn't have any money to get me medicine. The captain of the boat got medicine for her to give to me. I am grateful and blessed to be on this earth and vowed to live my life with compassion and kindness and care for others in need, to give in whatever ways I can. Even though sometimes I feel like I barely do anything and wish that I could do so much more."
SheDoes. (04/11/18)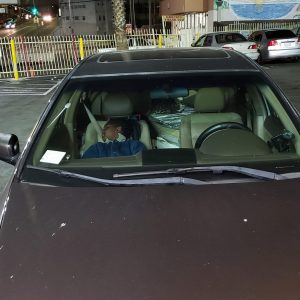 Mayor Eric Garcetti do you get it yet?
Fellow Angelenos do you understand now why we're making such a fuss? The father of this girl was asking people for help in a 711 & someone offered to help. On the counter was a bottle of chocolate milk. Everywhere you go we see this. If you start to look you will see this too. Yes, we're asking for shelter beds for women but when we shelter a 1000, women it's going to free up space and the pressure on existing shelters.
We're in a crisis and we need to act now!
1000 Women Sheltered by August because#SheDoes Deserve Shelter & Protection!
Join us to campout outside City Hall on April 14th to demand that Mayor Eric Garcetti and the City Council of LA appropriate $20 million towards sheltering 1000 women for the coming year!
Janice. (04/07/18)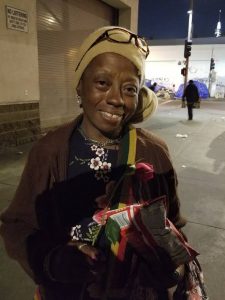 Tuesday night while we were serving food on Skid row we had Caroline Chang give out roses to all the homeless women who came through our line. One lady in particular stood out to Caroline.
"Janice stood out to me that night because she actually didn't come through our line for food. "Success Unlimited" (A friend of ours from Skid row) came up & asked if we could give a rose to his friend, as she was having a really bad day. He brought Janice over and it was obvious something bad had happened to her – she was crying and her eyes looked like she had been crying all day. I asked her if she'd like a rose and if I could take her picture and she said yes. As soon as I gave her the rose she lit up and smiled…"
Next Saturday night thousands of Angelenos will be camping out in tents. Not in LA but in Indio to party at Coachella. At the same time, hundreds will pitch up tents right in front of City Hall in LA for something entirely different. For our homeless women. For our mothers, grandmas, sisters and daughters who have to sleep on our streets because our shelters are full. You can party at Coachella & have an amazing time but you can also pitch up a tent with us for a few hours and work to make sure that our Mayor Eric Garcetti & the City Council of LA opens up more shelters for women like Janice who are continuosly exposed to rape & violence on our streets.
The choice is easy. #SheDoes Deserve Shelter & Protection!
Sharon. (04/02/18)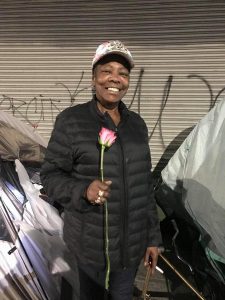 This is Sharon!
Sharon lives on 6th street on Skid row. "Lives" is a very loose term when she has to protect herself against rapists, gang members, thieves and the elements. This is actually no way to live at all. You do understand the thin plastic skin of a tent offers no protection from predators right?
I want you to think back to what you said at the Women's March during your speech.
"We fight for the rights of all of us!"
WE do need you to fight for the rights of all. Especially the over 30,000 women who are homeless and living outside of shelter in LA.
"There's no wrong time to do the right thing!"
Yes, like you said, "There's no wrong time to do the right thing!". Even though you have neglected this issue for the past 5 years of your mayorship, we still believe you can do right by our homeless women.
Look at this photo. Look at this woman. She's not just a homeless woman. This is Sharon! She has a story just like you and me. Doesn't she deserve to be safe? Doesn't she deserve to have a comfortable place to sleep?
#Shedoes Deserve Shelter & protection Mayor Garcetti! Let's shelter 1000 women by August 2018.
The time to act is NOW!
Join us to campout outside City Hall on April 14th to demand that Mayor Eric Garcetti and the City Council of LA appropriate $20 million towards sheltering 1000 women for the coming year!
Chocolate. (04/01/18)
7 years ago I met a woman named Chokom on Skid row. Even though her name was Chokom, some mistakenly called her chocolate. It would really be a mistake to call her chocolate because this was some mean ass woman. She was big, loud and never hesitant to get into a fight. She would push people in her way onto the street, randomly punch people and once, she threw a glass bottle at a man's face. Some of the men on Skid row knew she had stabbed a man. They were terrified of her.
After days of bullying when we were serving food on Skid row, one night I reached my limit. Woman or not, I was ready to fight. That night we came face to face and she realized I was ready to hurt her. That night the monster left and she broke down crying. Instead of being aggressive, she put her head on my shoulder and bawled. She kept saying over & over: "My daddy raped me!" "Jesus why? Why did you let it happen? My own daddy raped me!"
I have never been homeless but the things I learned in the last 7 years make me understand what breaks a person to do so. The stories I've heard all sound the same. Abuse from parents or loved ones. 90% of the women on our streets of LA are victims of Domestic Violence or Sexual Assault. I hope this makes you understand why we need to sacrifice a little and go out of our way to help these people.
I hope this makes you understand why we say #SheDoes Deserve Shelter & Protection!
Denise. (03/31/18)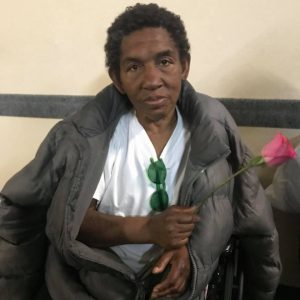 This is Denise at karaoke. When she's not at karaoke she sleeps on her wheelchair on Skid row. She is severely disabled and either was born missng part of her right leg or amputated below her knee. She also suffers from a speech impediment and mental illness. She sits and sleeps on her wheelchair on Skid row.
There are thousands of older homeless women and hundreds of disabled homeless women like Denise on our streets. Women like Denise need housing and until housing comes along she requires shelters that accommodate her special needs. Shelters that are specifically for older women.
Help Denise by showing up to campout outside City Hall on April 14th to demand that Mayor Eric Garcetti and the City Council of LA appropriate $20 million towards sheltering 1000 women for the coming year!
Jayna. (03/29/18)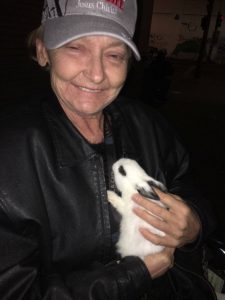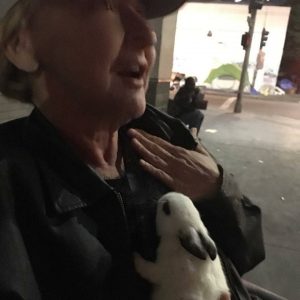 Dear Christians of Los Angeles,
This is Jayna holding her pet rabbit. Last night I was walking with our team on Skid row when I saw Jayna. The rabbit was resting just like you see on her shoulder. At first I thought it was a puppy. I asked Jayna if it was a puppy and she told me no. It was her pet rabbit JC. I asked why do you call him JC and she said it stands for Jesus Christ. "He sleeps on my shoulder"
That hit me!
What you can't see in this photo is that Jayna is in a wheelchair. And when she said he sleeps like this it meant she sleeps in her wheelchair. She's usually the first person in our line for food. What hit me even more was that she named her rabbit Jesus Christ. In a Christian Nation, to see an older woman like Jayna sleeping in a wheelchair in one of the worst places on earth must be actual hell. Can you imagine, just within a few blocks starts the multi billion dollar buildings but you have to wonder where we went wrong for us to let people exist like this. We have churches raking in millions but Christians like Jayna have to sleep in wheelchairs.
How do you think she uses the bathroom?
There's barely any bathrooms let alone disabled access bathrooms on Skid row. Why are you letting this happen? How much pain must Jayna be in that she named her rabbit Jesus Christ???
And Jayna is just ONE of thousands of women who are homeless on our streets in LA.
This is why we're asking for exclusive shelters for older women with things they require such as easy access bathrooms.
This is why we started #SheDoes!
Because #SheDoes Deserve Shelter & Protection!
It's time to stop just calling yourself a Christian & actually act like one!
Help us demand that Mayor Eric Garcetti and the City Council of LA shelter 1000 women by August!
SheDoes. (03/20/18)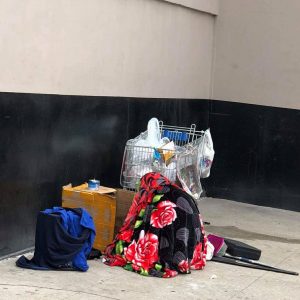 So my office is on the outskirts of what would be considered Downtown Los Angeles. Because it's a social services building, the authorities usually keep it cleared from people sleeping and camping around it.
I was just on my way to lunch right now when I saw this woman sitting here by my building, swaying gently back and forth. I called out to her so that I could ask her if she'd like for me to get her anything from the local Subway restaurant that I was going to, and she didn't acknowledge me. I called out to her again, and this time she pulled her blanket over her head, and began swaying harder, mumbling something to herself. I decided to let her be, because I didn't want to scare her or want her thinking that I was there to roust her or hassle her. It's not extraordinarily cold outside at the moment, but it IS expected to rain later on today or tonight. I really hope she is able to find some shelter.
I ask again, does she deserve shelter and protection from the elements and the streets?
SheDoes. (03/25/18)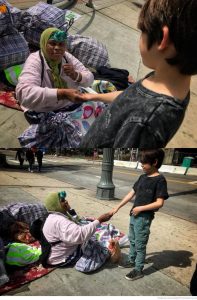 Walking to Union Station from City Hall today, it was a sobering reminder of the homeless crisis, with many streets lined with encampments…. This lovely woman was so delighted to see David, she said a prayer to bless him….
Addie Kathryn Price, RIP. (02/26/18)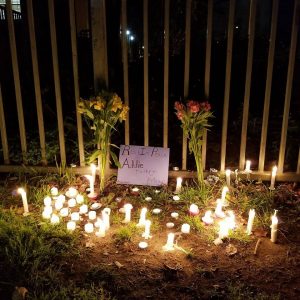 Rest in Peace Addie Kathryn Price!
You were betrayed by the City & County of LA
We will remember you by making sure that our Mayor, every County Supervisor & every Council Member, knows who you are, how they betrayed you, & that they will do their absolute best to make sure that no other homeless woman in LA has to die alone in a tent from hypothermia.
Chelsea. (02/22/18)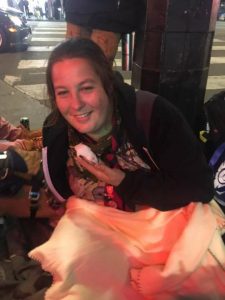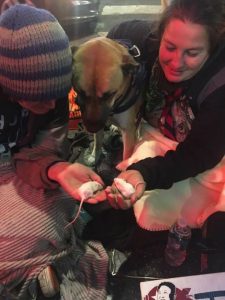 This is Chelsea!
She lives on the streets of Hollywood with her dog & pet mouse. When we gave her a blanket the first thing she did was place it over her dog! Women like Chelsea are very attached to their pets. Most times this is to cope with trauma. Trauma suffered through Domestic Violence & Sexual Assualt.
Women like Chelsea need shelters that accomodate pets & one of the shelters we propose has to accept pets to accomodate women like Chelsea.
Women like her Deserve Shelter & Protection. #SheDoes – She Does Deserve Shelter & Protection!
SheDoes. (02/21/18)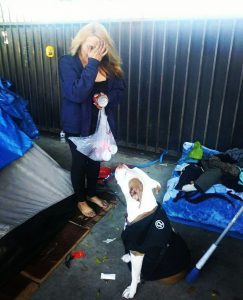 No woman in LA needs to be barefoot & outside in this cold & no woman in LA can protect herself from predators with a plastic tent!
Marilynn. (02/18/18)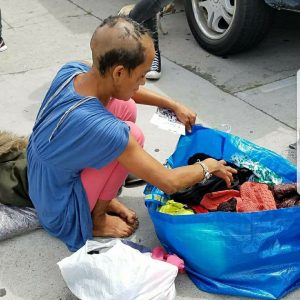 Marilynn deserves to be housed!
The story behind her is heartbreaking. She pulls out her hair and is suffering from Mental Illness. She tells me how men are constantly raping her like if it was something normal for her to go through. There are used condoms all around her tent and inside her tent. This is what we see happening on the streets of Los Angeles. How can this be ignored? This is REAL, this is REALLY happening to our homeless women.
#SheDoes deserve shelter and protection!
#MayorOfLA please help women like Marilynn. This is happening in your City.